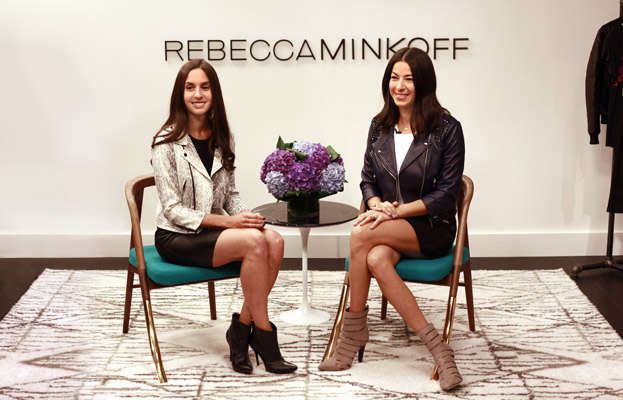 About Rebecca Minkoff:
Born in San Diego, California, Rebecca Minkoff's first love was the art of design and she began sewing at the age of eight. Although Rebecca's handbags have been a hit among the stars and women all around the world, she began designing clothing at the age of 18. She launched her clothing line in 2001, but it wasn't until her good friend and actress Jenna Elfman asked her to design a handbag for her next movie that the "Morning After" bag was born. Her clothing line had the details that one would expect in a well-made garment and were cut to move over the body with ease. She took these ideas to her handbag designs which have been spotted on the arms of celebrities such as Lindsay Lohan, Hilary Duff, Bijou Phillips, Jessica Simpson, Sarah Jessica Parker, and Debra Messing.
When the list of celebrities toting the now famous Rebecca Minkoff MAB Mini Satchel became almost as long as the stars at the red carpet events, consumers began to flock for this designer's purses. Seen in such magazines as Instyle, Marie Claire, People and more, these are the bags to be seen wearing.
The story behind the designer is as captivating as her line of purses. Rebecca Minkoff began designing when she was a little girl. Residing in San Diego, she started designing and sewing clothes from elementary through high school. Clear about her passion she moved to New York after high school graduation to pursue her love of fashion design. When one of her t-shirts was seen on the Jay Leno show, she was hooked. It was a patriotic, "I love New York" t-shirt from which orders poured in. She created the shirts in her small New York apartment and knew that this was her future.
In 2005 Rebecca began designing her now famous line of purses. The idea behind her line of purses was that they could go from day to night and fit beautifully with either type of outfit. When her romantically themed handbags were purchased by celebrities and photographed in magazines, another successful line was born.The Rebecca Minkoff MAB Mini Satchel is a luxurious bag that just trips over itself with attitude. Originally designed for a close friend and actress, this bag will easily go from a day at the office to an elegant night out.
Just like every other famous name brand, there are knock-offs, so it's important to buy from a respected retailer. The knock-offs do not come close to the look, feel, design, or attitude of the real thing. Among the celebrities that love her bags are Debra Messing, Holly Berry, Jessica Alba, Kim Cattrall, and many, many more. It seems as if all of Hollywood is now carrying a Rebecca Minkoff bag to one event or the other.