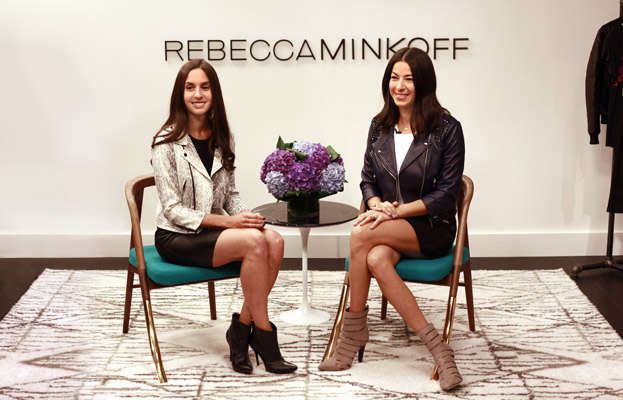 About Rebecca Minkoff:
Born in San Diego, California, Rebecca Minkoff's first love was the art of design and she began sewing at the age of eight. Although Rebecca's handbags have been a hit among the stars and women all around the world, she began designing clothing at the age of 18. She launched her clothing line in 2001, but it wasn't until her good friend and actress Jenna Elfman asked her to design a handbag for her next movie that the "Morning After" bag was born. Her clothing line had the details that one would expect in a well-made garment and were cut to move over the body with ease. She took these ideas to her handbag designs which have been spotted on the arms of celebrities such as Lindsay Lohan, Hilary Duff, Bijou Phillips, Jessica Simpson, Sarah Jessica Parker, and Debra Messing.
When the list of celebrities toting the now famous Rebecca Minkoff MAB Mini Satchel became almost as long as the stars at the red carpet events, consumers began to flock for this designer's purses. Seen in such magazines as Instyle, Marie Claire, People and more, these are the bags to be seen wearing.
The story behind the designer is as captivating as her line of purses. Rebecca Minkoff began designing when she was a little girl. Residing in San Diego, she started designing and sewing clothes from elementary through high school. Clear about her passion she moved to New York after high school graduation to pursue her love of fashion design. When one of her t-shirts was seen on the Jay Leno show, she was hooked. It was a patriotic, "I love New York" t-shirt from which orders poured in. She created the shirts in her small New York apartment and knew that this was her future.
In 2005 Rebecca began designing her now famous line of purses. The idea behind her line of purses was that they could go from day to night and fit beautifully with either type of outfit. When her romantically themed handbags were purchased by celebrities and photographed in magazines, another successful line was born.The Rebecca Minkoff MAB Mini Satchel is a luxurious bag that just trips over itself with attitude. Originally designed for a close friend and actress, this bag will easily go from a day at the office to an elegant night out.
Just like every other famous name brand, there are knock-offs, so it's important to buy from a respected retailer. The knock-offs do not come close to the look, feel, design, or attitude of the real thing. Among the celebrities that love her bags are Debra Messing, Holly Berry, Jessica Alba, Kim Cattrall, and many, many more. It seems as if all of Hollywood is now carrying a Rebecca Minkoff bag to one event or the other.
About Silk Fabric & Dresses:
Silk dresses need to be stored in the appropriate way. The place you store it should be well aired. This is because silk is a natural fiber and for it to stay in good condition, it needs to be stored in a place where it can take in air easily. Since these dresses are always in fashion, taking proper care of it means that you can wear it for a long period of time.
These garments can be worn to any kind of occasion. Start looking for one a few days before the occasion. Most brides prefer wearing silk gowns because they are available in different unique designs. There are also various colors to choose from. Depending on what the theme color is, there is a high possibility that you will easily find the one you need.
It is quite obvious that all women love to look attractive and fashionable at any event, especially parties at night. Thus, what comes to their minds first are dresses that can make other women in the crowd envy them. Dresses in silk are impeccable and they are suitable to any wear, be it formal or informal. Your dresses should fit you well because they are made in different sizes and designs.
Silk is affordable, and this is why it is preferred by a lot of people. It is also durable, which can save you a lot of money that would otherwise have been spent in countless shopping. To ensure that you get pure silk, get the dress directly from the manufacturer. They always have good quality materials and the designs of the dresses are stylish.
It is highly demanded dress material in the cloth market. Silk dresses being a little expensive when compared to others, they are mostly preferred by women to wear at significant occasions.
A simple strapless silk dress can be worn to your office, which could make you look fashionable. Women have always loved dressing in silk, as this fabric makes them feel more confident and charming. Most of the women prefer to wear a strapless dress and cover their bare shoulders with a leather jacket.
Many women are of the opinion that printed silk dresses are look and fit perfectly, enhancing the contours of their bodies. This material is very light to touch, unlike others. The best part silk clothing is that it does not wrinkle and it is long-lasting. It is most appropriate to wear dresses made of silk grand occasions like weddings or anniversary parties.
Silk fabric feels very good on our skins due to its smoothness, and you will find it really comfortable wearing during the summers. You can wear silk evening gowns in winter because they keep your body warm and make you feel comfortable. You can always add silk printed dresses to your wardrobe, as they help you to make your own style statements.
For several years, wedding dresses in silk have always been a bride's only choice. Any bride would want to be the center of attraction on her most memorable day and it a dress made of silk, which is going to fulfill her wish. Silk material has always been a symbol of royalty and elegance. This material is rich, soft and shimmers, and thus, it is a favorite fabric chosen by brides around the world. Silk fabric is made from organic fiber and therefore, it is durable and expensive.
It is recommended to take proper care of your silk clothing, which will ensure that they last forever. In order to avoid any damage to your dresses made of silk material, its best to have them dry cleaned. You also need to be cautious that you do not stain them by spilling anything. However, there are a few silk wears that can be hand washed. Its best you avoid using perfumes on silk clothing, as oil from the perfumes will stain the fabric and remain on it till it is washed.
It is suggested that you hang your silk dresses on wooden or plastic hangers. Silk garments should not be kept in plastic bags for a long time, as there are possibilities of it being eaten up by various kinds of insects. There are a few women who cannot afford to buy silk dresses because they are quite expensive. However, it is not an issue anymore, as there are many companies who introduce off-season sale where many dresses in silk, cotton, satin etc. are sold at much cheaper rates.